Oak Log Cabin
The pictures below are of the log cabin I built from 1991 - 1993. It was built on 12 wooded acres in Hunterdon County, NJ. Unfortunately at the time when I got divorced it was necessary to sell.
&nbsp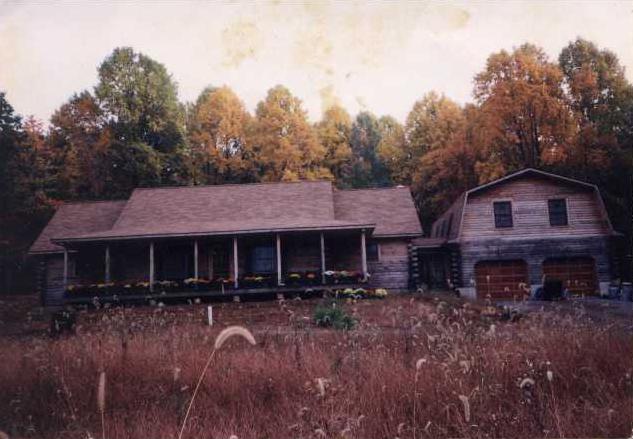 Above is the view from the front
Below is the view from the back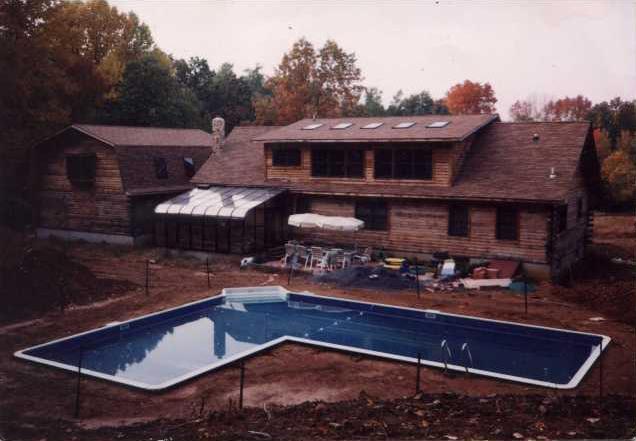 The cabin was a kit bought from Gastineau Log Homes, Inc. in Missouri. The logs are solid oak. The living space was about 3,400 square foot. I designed the interior, attached the garage and had it blueprinted. There was a full unfinished basement & full unfinished room above the garage. The solarium on the back of the house contained a 6 person hot tub. The house had 3 bedrooms, 2 full baths, kitchen, great room (dining room / living room) and a game room loft. The pool dimension is 16X32x40. The 16X32 side is all shallow end. The 16X40 side is shallow end & deep end with a diving board.

Now you may wonder why I spend so much time talking about something I no longer own, I guess it's like the fish that got away. Bragging rights. It was quite an accomplishment at age 25 to have built & owned a house worth around $350,000.00. It was a great adventure & truly a dream house. My only regret is that I could not keep it. Maybe sometime in my future I will have the means & opportunity to do it again.

One very important lesson I learned in it all is that money & possesion can't buy you happiness. The cabin is a great memory and a lesson in life. I've since moved on and have no regrets, just another great experience that helped to form who I am today.